Different rooms have different lighting needs and it's a juggling act getting them just right.
Task lighting is essential if you love to relax and read in the living room. Both floor lights and table lamps can be well positioned to illuminate the specific area.
Room By Room Lighting Ideas
Kitchen
A kitchen is the very heart of the house, so its lighting needs to be variable to suit its many uses. When being used to prepare food, bright task lighting is a necessity. The cooktop, sink and benches need to be clearly illuminated while you are creating your latest gastronomic feast. Recessed downlights in the ceiling or spotlights with fully adjustable heads can be positioned to give good directional lighting. An extractor fan over the cooktop can also include bright task lighting to assist in food preparation. If you have cupboards over bench tops, then consider concealed fluorescent strip lights to dispel any lingering shadows.
When the kitchen is used for dining, more ambient light is required. A series of pendant lights over the eating area creates an intimate pool of light right where it's required. Use dimmers to turn down the wattage once the cooking is completed. And for a romantic dinner, simply turn down all the lights as far as they will go and break out the candles for extra ambience.
During the day, a large ceiling or pendant light – perhaps a set of three over the island bench for a contemporary look – can brighten the kitchen area. Overall, a selection of task, accent and ambient lighting coupled with dimmers will provide a full range of illumination, no matter how you use your kitchen.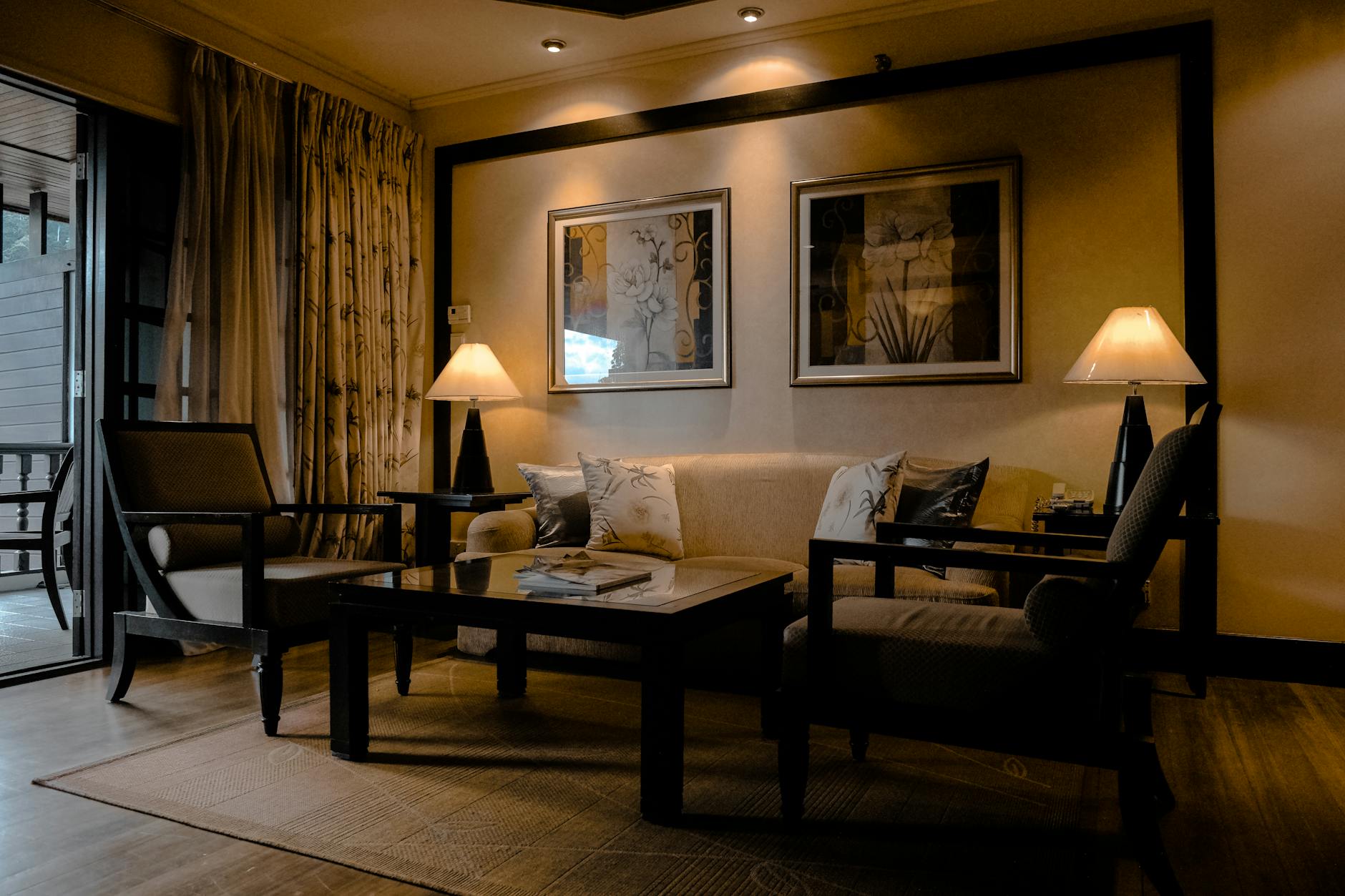 Living Room
The living room is usually the largest space in the house and is used in many different ways. It needs a mixture of ambient, accent and task lighting that can be mixed and matched depending on whether you are watching TV, entertaining friends, reading a book or playing games with the kids.
General ambient lighting can be supplied by recessed downlights, pendant lights or even a chandelier if you have enough head height.
Wall lights are a great option for accenting artwork, while a floor lamp can face a large painted wall to reflect soft light back into the room. When it's time to chill with a movie, a dimmed floor or table lamp will provide enough illumination to navigate the room safely without interfering with your viewing.
Just make sure to position it so it is not reflected by the TV screen.
Task lighting is essential if you love to relax and read, or sew or knit, in the living room. Both floor lights and table lamps can be well positioned to illuminate the specific area.
One of the nicest ways to light a living room is with a fireplace. The flickering light of the flames coupled with soft overhead lighting will make your lounge room a comfortable and inviting space to talk, relax and reconnect with friends and family.
Bathroom
Functional lighting is the way to go in bathrooms and ensuites, but that shouldn't be at the expense of mood lighting. Recessed downlights can flood the space with even bright light, often making a small room seem larger. A dimmer switch, meanwhile, can help soften the glow – a handy option when enjoying a long soak in the bath.
A light positioned directly overhead and above a mirror will cast shadows on your face. This can be alleviated by positioning two wall lights on either side of the mirror – handy when shaving or applying make-up.
There are regulations about where you can position lights in the bathroom, so make sure your planning considers safety first. Masters sell a stylist range of lighting specifically designed for use in bathrooms which clearly shows where each light can be used.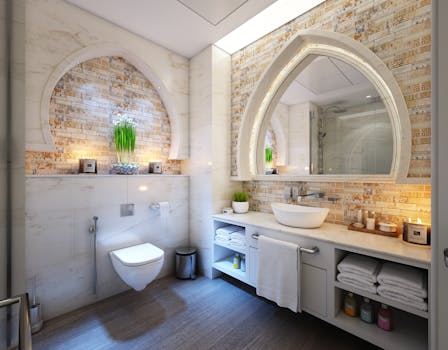 All information and tips in this publication are of a general nature only and Jovialfloor does not warrant the accuracy or completeness of the information and tips in this publication. This publication is not intended to be a substitute for expert advice.Jovialfloor advises you to always consult an experienced and qualified person when undertaking jobs of this kind (including consulting a qualified tradesperson such as an electrician or plumber where relevant expert services are required). You should also consider any safety precautions that may be necessary when undertaking the work described in this publication (including wearing any necessary safety equipment such as safety glasses, goggles or ear protectors or hard hats). The information and tips in this publication are provided on the basis that Jovialfloor excludes all liability for any loss or damage which is suffered or incurred (including, but not limited to, indirect and consequential loss or damage and whether or not such loss or damage could have been foreseen) for any personal injury or damage to property whatsoever resulting from the use of the information and tips in this publication. Jovialfloor also notes that there may be laws, regulations or by-laws with which you must comply when undertaking the work described in this publication. You should obtain all necessary permissions and permits from council and/or any other relevant statutory body or authority before carrying out any work.